Back in December 2015 I met S, a young Gambian activist, at a workshop in Paris art COP21. The workshop was a speak-out, or Forum, run by my organisation 'Sustaining All Life'.
Several young African activists from Activista spoke about the devastating effect climate change has had on their families. S told us about the effects of drought on his family farm, which supports 41 people – when they are lucky with the weather. He explained that the poor state of agriculture results in young people leaving for the cities, where levels of youth unemployment are very high. Many are then tempted to risk the long journey to Europe, through Mali, across the Sahara desert to Libya, and then to embark in ramshackle, overcrowded boats onto the Mediterranean sea. S said that four of his close friends had been killed, by drowning or violence, on that journey. A recent famous victim was Gambia's 19 year old national women's football team goalkeeper Fatim Jawara, who died attempting to cross the Mediterranean from Libya (Gambia's football federation).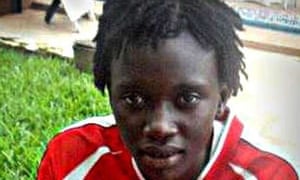 Very few young Gambians who seek asylum actually achieve the dream of getting a home and a job in Europe so that you can send money back to your family.
S and I have been Skyping for over a year now. He and his colleagues found it useful to be listened to at the Paris workshops we ran, so he was interested in learning co-counselling. (He would rather have had compensation from the rich countries for the devastation of climate change, but that wasn't in our power to offer.) After a year of seeing each other in two dimensions, S and I decided to organise an introductory workshop, to be run by Sustaining All Life, for some of S's young adult team-mates. (S works as a volunteer against FGM, on issues relating to HIV/Aids and women's land rights as well as on climate change).
From March 3rd 2017 over 20 of us will attend a weekend workshop led by a young woman leader from Kenya. (I'll tell you later how it went.) You may wonder what the point is. The Gambia has very real problems, especially of poverty. They have just had an election and (finally!) got rid of a dictator. Because of his cruel persecution of many people, the small country of the Gambia has contributed a large number to the population of refugees. Now they hope to be governed democratically and to end corruption. Why would they need co-counselling?
This natural process involves people using each other's non-judgmental attention to take turns listening to each other for a specific length of time. It could be anything from three minutes to an hour. The one being listened to can use the other's attention any way she or he wants. They might talk about the beauty of the day, or how much they love their children, or their fears, or their irritation. They might cry about the beauty, tremble about the fears, rage about injustice. Expressing emotions in a safe place clears the mind and helps us think better.
Through doing this process, we come to realise how much past hurtful experiences colour our everyday reactions to whatever is happening. You might think that being ruled by a dictator is the same for everyone, but actually it upsets each person in a slightly different way. Each of us have been made vulnerable by particular early hurtful experiences. Each of us have places where we get reminded of past painful experiences. When that happens we can't think clearly, and our reactions are rigid and stereotyped, that is, not creative and intelligent. To be  able to change society (or anything else) we need to get our minds back from the ambushes of the past. Co-counselling can help with this.  For activists in particular, listening to each other is a great way of preventing burn-out.
The system we live in is set up to separate us. People of my background are supposed to think of the Gambia as a holiday destination, 'The Smiling Coast', and to forget the cruel history (at British hands) of slave trading and colonialism.
This workshop will attempt to overcome the divisions between us, without denying our different histories and conditions. I feel lucky to be able to go. I have already learnt a tremendous amount from knowing S. and from hearing about the work he and his fellow-activists do. For instance, he and other young Gambians took to the streets to demand that Jammeh leave, even though  the regime's armed soldiers and those of ECOWAS (The Economic Community of West African States) were facing each other in the capital, from which most people had fled. And after the dictator Jammeh did finally leave the country, taking with him an enormous sum of money that belonged to the people of Gambia, many young people went to the National Assembly to demand that the parliamentarians resign because of their collusion.
I think our workshop will allow participants to express their feelings about these recent events, to notice their own courage and value. I hope it will give them an idea of how to help each other heal from unfinished business in their pasts which might be stopping them being even stronger.